Overview
Common bus specific functions, types and identifiers.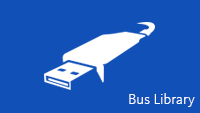 This module defines all labCAN bus specific functions for initialization, management and error / event handling when using a labbCAN bus.
See also

See CETONI SDK Documentation for a detailed introduction and overview.

Collaboration diagram for labbCAN Bus API:
Modules

 
Device Management
 
Common labCAN bus device handling and management This group defines all common functions for handling of devices attached to labCAN bus.

 
 
Error and Event Handling
 
Error and event handling This group defines all required functions for handling of common bus events and errors.

 
 
Initialisation
 
Initialize communication to device.

 
 
Utility Functions
 
Common utility and helper functions.

 
Typedefs

typedef long long 
dev_hdl
 
generic device handle

 
typedef long long 
labb_hdl
 
generic labbcan API handle