Overview
Pump specific functions for various pump types.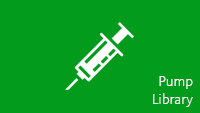 This module defines common labbCAN pump specific functions, identifiers and data types for driving labbCAN conform pumps (syringe pumps, tubing pumps) that are attached to a labbCAN software bus.
See also

See Pump Library for a detailed introduction and general overview of labbCAN pump library.

Collaboration diagram for labbCAN Pump API:
Enumeration Type Documentation